A ritual infused yin yoga journey to embrace cyclical living
All of life moves through cycles, rhythms and orbits. We humans are no different. There is an elegant wisdom in this dance between abundance and rest. 
Modern life has become deeply disconnected from some of the natural rhythms both around us and within us. It is not without consequence on our biology, energy and the deeper experience of being here.
Healthy living is always a balance of yin and yang. Listening only to the latter leaves us feeling burnout, empty and brittle. It leaves us stuck; unable to honor our growth, our grief and disconnected from self.
We all need the deep nourishing fill of yin. 
The soft flow of presence, unrushed by outcome.
The guileless surrender to breath and feeling.
Cyclical Living & Yintrospection
Moon Journey Yin is a 4-week container for you to regularly meet yourself in softness with guidance.
The course cycles with the 4 moon phases or your personal moon cycle, as both follow a similar path. You will learn about cyclical living, how each phase affects your energy and how to create more alignment with each phase. 
This will let you anticipate when you might feel tired, anxious or overwhelmed. But also when you will be at your best so that you can celebrate, enjoy and revel in when you are feeling great. Together with an easy to use self-care planner this will help you manage you expectations and intentions, week by week, so you know exactly how to fill your own cup all along the way. 
Each week offers a guided yin yoga and breath practice chosen for their energetic effect relative to the phase you are in. All the sessions will help you to recalibrate your nervous system and create more spaciousness in your thinking and responses. This awareness is the first step to shift any patterns that leave you feeling like you are swimming upstream, exhausted and drained. 
As life is not restricted to the time we spend on our mat, the course also contains simple rituals to help you add conscious action to your intentions. This is the essence of embodiment; to really feel, experience and show up for ourselves beyond fleeting thought. It is the day to day action that really cements growth and healing into our bodies and minds. 
This course is for you if:
Why you should be embracing Cyclical Living

Cyclical living is not new. Folk wisdom of aligning you life to the cycles of nature have been around for centuries and practiced the world over. In the last century we have just become disconnected from this ageless wisdom that honors our biology. We do not have to chose between modern living and folk wisdom though. Through reflection, direct experience and learning we can learn create exactly what we need and don't need to support our own well-being.
What
you will receive
on Moon Journey Yin
Curious to explore a yin-based approach to cyclical living?
Sign up before or on 7September to access the Moon Ceremonies and Bonus Masterclass about Moon Cycle Plant Allies for FREE!
Launch
Bonus
if you sign up before or on September!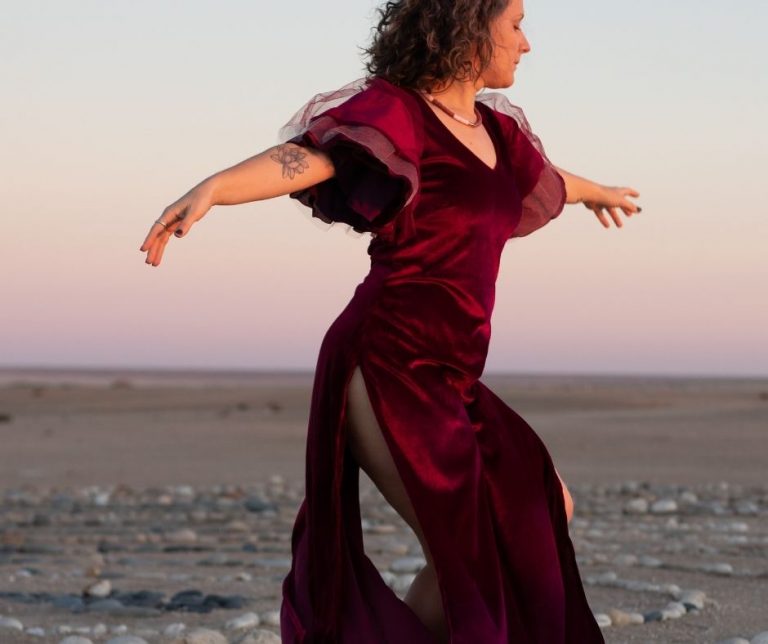 3 Live Online Moon Ceremonies (Value € 75)
Ceremony is something that happens in your heart. It is about  creating space to deep dive into a particular aspects of your healing journey and discover the seeds of your path forward. They require a little more preparation, but also time afterwards to integrate what was experienced. These three ceremonies together will help you find deeper connection to the spiral of healing. I will be guiding you through practice & ritual to gain more insight, embody your emotions and connect with others on the same journey. If you cannot join live, you will receive the replays in the course content area.
Moon Cycle Plant Allies (Value € 100)
Masterclass with Nina Lawrin - 26 Sept
In this unique masterclass you will learn about the various plant allies that can help support you throughout the various stages of the moon cycle. Nina Lawrin will guide you in a tea ceremony to help you tune into your body, senses and connection to plants . This will be followed by a conversation on people-plant connection, as well as how to forage safely and legally (whether you live in an urban, suburbs, or rural areas) as a way to deepen your connection to self and the land you live on. In this masterclass you will also receive: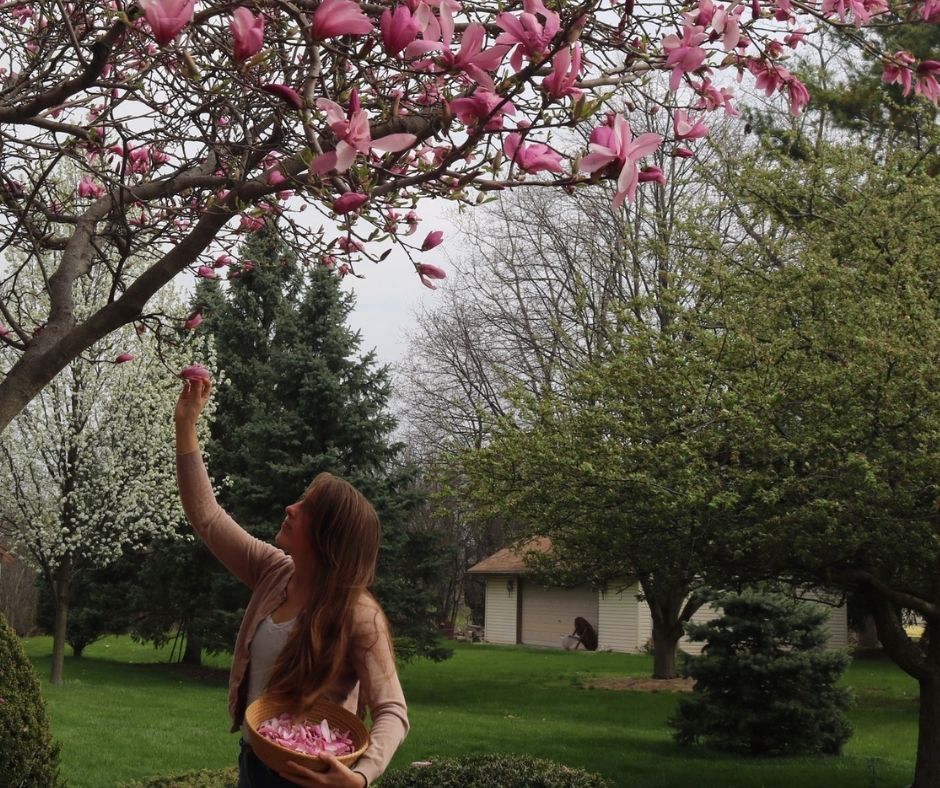 About Nina Lawrin
Nina is an ethnobotanist, urban forager, permaculture designer, artist, and folk herbalist. She is the owner of Loveren Collections; an experience dedicated to education and re-connection to nature through everyday wild perennial foods with emphasis in the Midwest, Eastern Europe and Southern Africa. Her brand Everyday Forage provides education and access to wild perennial foods through seasonal offerings and subscription boxes while supporting local, oftentimes indigenous, foragers. Nina completed her MSc in Ethnobotany from the University of Kent, UK. Her dissertation focus was on ecological knowledge retention of culturally salient food plants within Ukrainian immigrant communities in the US.
Everything is professional and done with passion and love! THANK YOU!
Liezl created a safe space to explore my body and at times difficult emotions. Thank you Liezl! I look forward to being on the mat with you again. Moving and breathing with hearts wide open.
I enjoyed your serene way of teaching. I felt at ease and receptive. As a student I felt very comfortable interacting with you as you encouraged me to dig more into your knowledge and inspired me to explore more through my own self study. Looking forward to being mentored by you in the future, as I slowly evolve in my practice.
I heard about Liezl from a friend of mine that was traveling to Namibia from Chicago. She spoke about how she really enjoyed the yoga experience with her & my inquisitive nature had to know for myself. Liezl's style of teaching has such a fresh & vibrant feel with a sense of lightness to it. You can see she really knows her craft. It's astonishing how she challenges you & at the same time is nurturing.
Great courses about growth of the inner yogi with beautiful building up. Liezl is a marvelous teacher of the body and the mind.
This sounds exactly like what I need!
Sign up before or on 7 September to access the Moon Ceremonies and Bonus Masterclass about Moon Cycle Plant Allies for FREE!
Launch Special
This offer has expired!
4 Moon Journey Yin Rituals

4 Guide Breath Practices to help regulate your nervous system

Cyclical Living as an Anchor in times of change

Presentations on how burnout, anxiety and grief affect you

Mapping Lunar Insights to your Moon Cycle

E-book of Inspired Intentional Rituals

Printable Weekly Self-care Planner

BONUS - 3 Live Online Moon Ceremonies (Value 75 Euro)

BONUS - Moon Cycle Plant Allies Masterclass (Value 100 Euro)
Moon Journey Yin
Regular Price
4 Moon Journey Yin Rituals

4 Guide Breath Practices to help regulate your nervous system

Cyclical Living as an Anchor in times of change

Presentations on how burnout, anxiety and grief affect you

Mapping Lunar Insights to your Moon Cycle

E-book of Inspired Intentional Rituals

Printable Weekly Self-care Planner
Not sure yet this is this is for you?
My personal journey to cyclical living
I have always been an avid practitioner of yoga in all its forms. Since 2020 my life changed drastically not only due to the sudden limitations pandemic, but also because of important relationships that ended and changed, as well as a pregnancy loss on top of the fear and stress that was already there.
My hormones were a mess and I was deeply burned out. I came face to face with realizations about skewed ideas about productivity and worth that were perpetuating the pain of all that happened to me. I came to the conclusion that the only way forward was to really own every aspect of my life, including the pain and discomfort which I wanted to get rid of.
The softness and understanding of a more yin approach, together with all the other embodiment practices I am learning, is how I have been going about it for the last few months. I started using cyclical living as a way to predict my energy and creating spaciousness and compassion at time when I would be likely to need it. That is what I share with you in this course.
It has helped me find more ease, acceptance but also strength to rise again to create a life I deeply appreciate, not because it is perfect, but because it is uniquely mine.
Although structured as a 4 week experience, you can cycle through the content for several months if needed. This course is not about ticking the boxes to feel better, but a well of inspiration you can keep drawing on and making your own as you grow & heal.
You can start at any time, based on which phase you might find yourself in. The introduction to cyclical living will help you orientate and get started. The material on cyclical living and the practices are self-paced. Like any learning, we only really integrate knowledge into personal wisdom when we revisit experiences more than once. In the same way, you will find more depth or resolution everytime you cycle through.
There are two ways to cycle through the material.
Based on the lunar cycle (calendar included)
Based on your personal moon (menstrual) cycle.
The lunar cycle is generally similar to the menstrual cycle in essence and duration. The information & experiences gained is easily carried over and made relevant to your own cycle if you wish. You can think of the lunar cycle as an external pace giver and the moon cycle as an internal one. Going forward you are free to choose with which cycle you connect.
Anyone who is interested in embodying a cyclical approach to living can do this course using the lunar cycles, regardless of how you identify. Mapping the lunar insights onto your moon cycle is a separate module for those who are interested or who find it relevant.
For those joining the journey now, we will be using the lunar cycle to guide our moon ceremonies as we explore the 4 phases and the energetic significance they carry. This is simply to allow for us all to move through the cycle at the same time.
Do you still have some questions about this course?
What are you
waiting
for?
Launch Special
This offer has expired!
4 Moon Journey Yin Rituals

4 Guide Breath Practices to help regulate your nervous system

Cyclical Living as an Anchor in times of change

Presentations on how burnout, anxiety and grief affect you

Mapping Lunar Insights to your Moon Cycle

E-book of Inspired Intentional Rituals

Printable Weekly Self-care Planner

BONUS - 3 Live Online Moon Ceremonies (Value 75 Euro)

BONUS - Moon Cycle Plant Allies Masterclass (Value 100 Euro)
Moon Journey Yin
Regular Price
4 Moon Journey Yin Rituals

4 Guide Breath Practices to help regulate your nervous system

Cyclical Living as an Anchor in times of change

Presentations on how burnout, anxiety and grief affect you

Mapping Lunar Insights to your Moon Cycle

E-book of Inspired Intentional Rituals

Printable Weekly Self-care Planner